Heated LP -Deluxe 25th Anniversary Double LP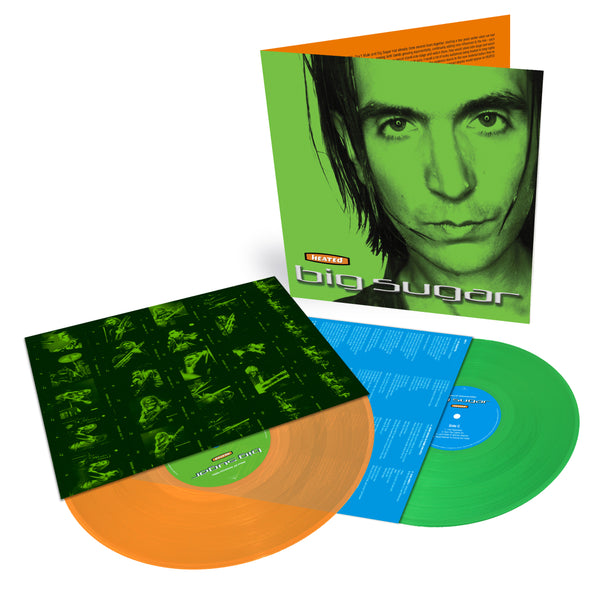 'Heated' features some of the best of Big Sugar's repertoire including 'Better Get Used to It', 'The Scene', 'Girl Watcher', 'Turn the Lights On' and a cover of BTO's 'Let It Ride'.  The 25th anniversary edition has been remastered and expanded to include 4 bonus tracks including the lead single, a cover of the Wings classic 'Let Me Roll It', an acoustic version of 'Better Get Used To It', 'Je Suis Cool' & 'Alka Lights' ft. Whitey Don.
The double LP gatefold deluxe edition is pressed on orange and green vinyl with extensive new artwork from the band's personal archives. Foreword by Warren Haynes of Govt. Mule. Also available on CD and all digital platforms.
"In 1998 when Big Sugar released HEATED, Govt. Mule and Big Sugar had already done several tours together, starting a few years earlier starting a few years earlier when we each released our debut album. It was an exciting time – seeing both band grow exponentially, continually adding new influences to the mix - each one rising to the occasion and not wanting to be outdone. Every night we would stand side stage and watch them, they would stand side stage and watch us, and many nights we would wind up on stage playing together either in their set or ours. I recall a lot of lucky audiences being treated to long nights of fresh, loud, unique spontaneous, "hard to categorize" music. It's always a true test to see how the audience reacts to the new material before they've had a chance to digest it and you could feel them connecting to these songs right away. A lot of future Big Sugar concert staples would appear on HEATED which remains one of my faves " Warren Haynes
Side A: 1. Where I Stand / 2. Better Get Used To It / 3. The Scene / 4. Cop A Plea
Side B: 1. Girl Watcher / 2. Round & Round / 3. Kickin' Stones / 4. Hammer In My Hand
Side C: 1. 100 Cigarettes / 2. Turn The Lights On / 3. Let It Ride ft. Warren Haynes / 4. Heart Refuse to Pound (for Patti)
Side D: 1. Better Get Used to It (Acoustic Version) / 2. Je Suis Cool / 3. Alka Lights ft. Whitey Don / 4. Let Me Roll It / 5. Leadbelly